You are here
The Mother Load: Surviving the Daily Grind Without Losing Your Ever Loving Mind (Paperback)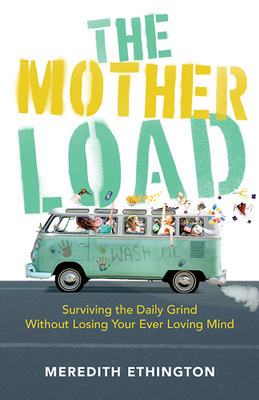 List Price: $18.95
Our Price: $17.06
(Save: $1.90 10%)
Available (Ships in 3-15 Business Days)
Description
---
Beloved author and blogger Meredith Ethington shares her experiences, heart, and wisdom for mothers everywhere in her newest book, The Mother Load.
Taking an honest look at her own journey as a mother, Ethington presents pieces of advice for each moment of motherhood--the good, the bad, the ugly, and every part of the in-between. Filled with raw, honest anecdotes, Ethington's portrayal of motherhood is fully transparent--at times humorous, at times painful--never shying away from the tougher subjects of motherhood that may often get pushed under the rug. While motherhood may often feel like an uphill battle, Ethington is here to guide mothers inward, where they are encouraged to reflect upon their own journeys as mothers. Ethington's book provides readers with insights on topics such as:
Nurturing yourself and caring for your mental health
Letting go of the idea of a "road-map" for motherhood
Practicing gratitude
Releasing expectations
Prioritizing authenticity over perfection
Ethington draws from her own experience to present the lessons she has learned along the way, including the importance of self-care, balance, and grace amidst the busy day-to-day routine of many mothers. With Ethington's poignant, vulnerable perspective on motherhood, mothers everywhere will be encouraged that the load they carry is one they never have to carry alone.
About the Author
---
MEREDITH ETHINGTON is a mother, author, and founder of the Perfection Pending blog, which presents mothers with encouragement, humor, and heart. Her debut book, Mom Life: Perfection Pending was published through Absolute Love Publishing and debuted on Amazon as the #1 choice in the motherhood category. She is the co-owner and editor at Filterfreeparents.com, and in 2017, Meredith was honored at BlogHer as a Voices of The Year Award Winner for her piece on mental health, Why I Take The Pill. She has freelanced for years for popular websites like Scary Mommy, The Huffington Post, Mamalode, Momtastic, Babble, CafeMom and has been published in Parents Magazine. She was also interviewed by The Wall Street Journal because of an article she wrote on friendship. She has been featured many times by The Today.com Parenting team as one of the funniest parents to follow on Facebook. Meredith resides in Salt Lake City, Utah, and you can find her on Facebook, Instagram, and Twitter, where she encourages mothers to laugh at themselves and admit that while parenting is the best thing ever, it's also the hardest job on earth.Read more about Meredith and get in touch with her online at www.perfectionpending.com.