You are here
One Bourbon, One Scotch, One Beer: Three Tales of John Lee Hooker (Paperback)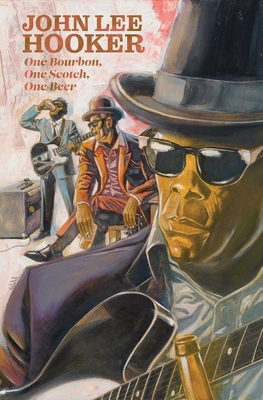 List Price: $19.99
Our Price: $18.39
(Save: $1.60 8%)
Coming Soon - Available for Pre-Order Now
Description
---
Legendary bluesman John Lee Hooker lived more life in one of his songs than the collective lifetimes of many.

Spanning several decades of the American experience, One Bourbon, One Scotch, One Beer tells three tales of Hooker's storied life through the perspective of those who lived within his massive orbit, weaving textured and interpretative stories that rise to the lofty creative heights of his music and fall to the gritty reality of trying to thrive in several unforgiving eras.
About the Author
---
Known for the popular online role-playing game Sword & Backpack, Gabe Soria is best known in the kidlit community for reinventing the choice-driven book genre with his four-book series, Midnight Arcade. He has also written several comic books for DC Comics, including Batman '66. Gabe also collaborated with friend Dan Auerbach of the Black Keys on The Murder Ballads comic book.

Cartoonist Kyle Baker has authored over 15 graphic novels and illustrated hundreds more in a career which extends over three decades long .
His animation has appeared on MTV, SHOWTIME, DISNEY channels and CARTOON NETWORK. He has contributed as a writer and artist to shows such as PHINEAS AND FERB and LOONEY TUNES.
He recently completed an ad campaign for NIKE featuring KEVIN DURANT.
His cartoons have appeared in VIBE, THE NEW YORKER, SPIN, MAD, and numerous other magazines, including countless MARVEL and DC comics.
Baker is the winner of 8 Eisner Awards, 4 Harvey Awards, and an Inkpot Award and Glyph Award, and others.
A pioneer in the Graphic Novel format since the 1980's, works such as NAT TURNER, WHY I HATE SATURN, and KING DAVID helped define and evolve the medium. In addition to licensing and products, his work now expands into digital realms with new apps, streaming animation, and game design.