You are here
Frank Lee, After Alcatraz (Hardcover)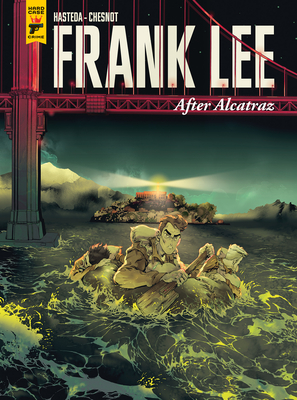 List Price: $24.99
Our Price: $22.49
(Save: $2.50 10%)
Available (Ships in 3-15 Business Days)
Description
---
In June 1962, Frank Lee Morris did the unthinkable and broke free from Alcatraz prison! Celebrating the 60th anniversary of his incredible escape, this thrilling graphic novel imagines what Frank Lee did next…

Bank Robber. Escape Artist. Genius.

But on June 11th 1962, Frank Lee Morris performed the most daring feat of them all: escaping from Alcatraz. He was never found, presumed to have drowned in San Francisco Bay. The FBI's case remains open to this day.

But what if he survived that fateful night? A free man. A second chance. What did he do then? Follow Frank in this stunning graphic novel on his journey from villainous convict to finding sanctuary and starting a new life, full of heartache, sorrow and a profound bittersweet acceptance.

Immortalised by Clint Eastwood in the 1979 film, Escape From Alcatraz, writer David Hasteda and artist Ludovic Chesnot imagine just what Frank's life might have been like after performing one of the most dangerous escapes of all time.

About the Author
---
David Hasteda, or more simply known as Hasteda, was born in 1974. Having travelled the world and being inspired by a love of Stephen King and John Carpenter, Hasteda has written many issues of the acclaimed Doggybags series. Since then, he's created two of his own titles Horseback and Frank Lee: After Alcatraz.





Coming from a background in animation, Ludovic Chesnot first tried his hand at comics in 2015 illustrating an issue of Doggybags for 619 Label. He's since collaborated on two more titles with Hasteda, the Doggybags one-shot Mapple and Frank Lee: After Alcatraz.






Praise For…
---
"The best part about Chesnot's art is the details of Alcatraz and the Bay Area of the era. It's lovingly rendered. His work on the final act really feels like you are in the cinema with Clint and Frank Lee [...] I would recommend this. A strong story that detours from history, yet feels honest. Honest to Frank Lee; honest to the history of Alcatraz." - FORCES OF GEEK


"Frank Lee: After Alcatraz is an entertaining read, a fictional tale based on real events that tells a very human story with a lot of heart. I found a lot in this book to enjoy, and was genuinely disappointed when it was done as I'd have loved to have spent longer with these people and their lives." - SET THE TAPE