You are here
Sherlock Bones and the Mystery of the Vanishing Magician: A Puzzle Quest (Adventures of Sherlock Bones #3) (Paperback)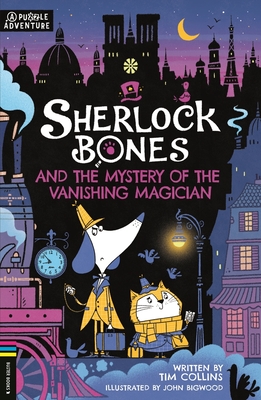 List Price: $9.99
Our Price: $8.99
(Save: $1.00 10%)
Available (Ships in 3-15 Business Days)
Description
---
Sherlock Bones, the world's greatest dog detective, and his trusty sidekick Dr. Jane Catson are back for another crime-solving adventure.

Bones and Catson are on a train bound for Paris when another passenger, a famous magician, vanishes in the middle of the night. Catson is convinced of foul play ... but none of the other passengers seem to know anything about the magician. Was he on the train at all? And how is his disappearance connected with a fiendish plot to steal the world's most famous painting, the Mona Lemur? Bones and Catson are up against it to reach Paris and solve the mystery before it's too late.

The third book in Buster's Sherlock Bones fiction series features puzzles – including search games, mazes and maths conundrums – that are woven into the action, so the reader feels immersed in the exciting detective plot.

Also available in the series:
9781780557502 Sherlock Bones and the Case of the Crown Jewels
9781780557519 Sherlock Bones and the Curse of the Pharaoh's Mask

Publishing in 2023:
9781780559223 Sherlock Bones and the Horror of the Haunted Castle
About the Author
---
Tim Collins was originally from Manchester, but now lives near Oxford. He is the author of over thirty books including Wimpy Vampire, Cosmic Colin and Dorkius Maximus. His books have been translated into over thirty languages and he has won awards in the UK and Germany, including the Manchester Fiction City award (2011 Winner) and the Lincolnshire Young People's Book Award (2012 Winner).
Praise For…
---
"In Tim Collins's fun puzzle quest novel Sherlock Bones and the Mystery of the Vanishing Magician, a detective dog and his Watsonesque cat companion are embroiled in an epic caper involving hypnosis, a passel of animals, and a series of puzzles ranging from mazes to math problems.  . . Punctuated by goofy illustrations and puzzles ranging from simple to challenging, the story is a cheeky send-up of the chemistry between Sherlock Holmes and Dr. Watson. . . . Compelling bad guys abound, and the narrative makes great use of animals' natural characteristics to amplify their strengths and downfalls. . . .[An] amusing, witty adventure novel." —Foreword Reviews
PRAISE FOR THE SERIES:
"Award-winning author Tim Collins . . . uses a witty and engaging style to fashion this twisty mystery. His action-packed text provides plenty of clues to encourage readers to guess the culprit's identity.
. . . All in all, Sherlock Bones and the Case of the Crown Jewels -- Bones's "trickiest case yet" -- should have young readers brandishing their very own magnifying glasses.
—
Shelf Awareness 
"Thirty puzzles, mazes, and games—illustrated with careful attention to detail by Bigwood (the Buster Practice Workbooks series) and sprinkled with droll visual puns—are featured throughout, providing readers with opportunities to assist in the investigations. . . . Collins (the Zero to Hero series) remains largely faithful to the source material's spirit, serving up an energetic introduction to classic literary characters via
a cunning, fur-raising adventure
."  — 
Publishers Weekly
"
A variation on the Choose Your Own Adventure format of stories.
The book is scattered with diagrams, mazes and spot the difference picture puzzles, which all enhance the excitement of the story. . . . This is
a good romp of a mystery.
" —
The School Librarian
on
Sherlock Bones and the Case of the Crown Jewel