You are here
Trailblazers, Black Women Who Helped Make America Great: American Firsts/American Icons, Volume 4 (Paperback)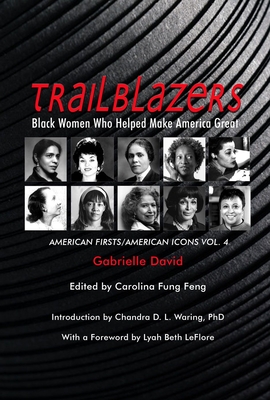 List Price: $34.99
Our Price: $29.74
(Save: $5.25 15%)
Backordered-Email or text (412) 585-2651 for Availability Updates
Description
---
The fourth volume in the Trailblazers series highlights Black women's contributions in film and television, the sciences, and journalism.

Black women have been breaking down barriers and shattering stereotypes for generations, playing a powerful role in American history. In the Trailblazers series, Gabrielle David examines the lives and careers of over four hundred brilliant women from the eighteenth century to the present. Each volume provides biographical information, photographs, and a historical timeline written from the viewpoint of Black women, offering accessible reference resources.

This fourth volume of Trailblazers explores the complicated relationship that Hollywood has had with Black women actors; significant Black women in the fields of science, technology, engineering, and mathematics (STEM); and pioneering Black women journalists. David includes actors such as Hattie McDaniel, Fredi Washington, and Nina Mae McKinney who blazed the trail for women like Pam Grier, Halle Berry, and Viola Davis. "Hidden figures" in STEM are brought to light, such as biologist Jewel Plummer Cobb, mathematician Dorothy Vaughan, roboticist Ayanna Howard, and computer scientist Timnit Gebru. In addition, profiles of publishing pioneers like Ida B. Wells-Barnett, Mary Ann Shadd Cary, Josephine St. Pierre Ruffin, and Nancy Hicks Maynard show how they paved the way for Carole Simpson, Yamiche Alcindor, Nikole Hannah-Jones, and Jemele Hill.
 
About the Author
---
Gabrielle David is a multidisciplinary artist, musician, photographer, digital designer, poet, and writer. David is the publisher of 2Leaf Press and serves as chair of the board of 2Leaf Press Inc. David is co-editor of What Does It Mean to be White in America? and Hey Yo! Yo Soy! 40 Years of Nuyorican Street Poetry, editor of Branches of the Tree of Life, and author of two poetry chapbooks.

Carolina Fung Feng, a translator and copyeditor specializing in Spanish translations, has worked on a number of 2Leaf Press titles, and is cotranslator of Hey Yo! Yo Soy! 40 Years of Nuyorican Street Poetry. 

Lyah Beth LeFlore is a producer, cofounder of the Shirley Bradley LeFlore Foundation, and bestselling author of eight books, including Wildflowers and I Got Your Back, cowritten with Eddie and Gerald Levert.