Stay Woke: A Meditation Guide for the Rest of Us (CD-Audio)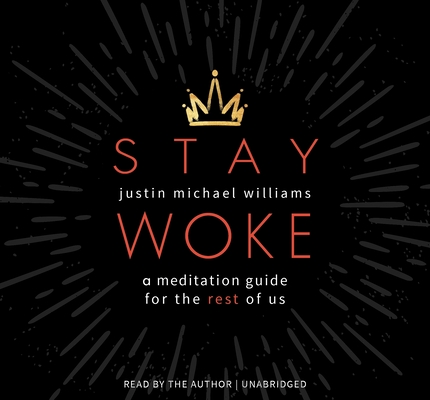 $34.99
Email or call for price.
Description
---
A no-nonsense guide to establishing a personal meditation practice, changing your life, and taking hold of your dreams.

CONFESSION: This is not really an audiobook about meditation.

Yes, Justin Michael Williams is going to teach you everything you need to know about meditation—but if you came looking for a typical program on mindfulness, you're in the wrong place.

We are modern people in a high-tech world. We have first world problems and long to-do lists. And if you grew up in struggle—overcoming homophobia, sexism, trauma, shame, depression, poverty, toxic masculinity, racism, or social injustice—you need a different type of meditation … one that doesn't pretend the struggle doesn't exist.

Now, Justin introduces Freedom Meditation—an approach that addresses disillusionment, social justice, and shame; strengthens intuition; cuts through self-doubt; and empowers you to make better decisions. Here you will discover:

- The five myths that create roadblocks to meditation
- How to actually find stillness when your mind is going crazy
- What nobody tells you about "setting intentions" and the science of manifesting
- Why you must turn toward toxic thoughts rather than just papering over them with positivity
- The opportunity and danger of getting creative ideas during meditation
- How meditation can help you find more success in your work and relationships
- Daily rituals that cement and enrich your practice
- How to use mindfulness to take action toward the causes you believe in and get sh!t done

Read by the author, this innovative audiobook guides you step by step in creating a custom meditation ritual that fits in with your busy (and sometimes messy!) life. Whether you've tried meditation but it never sticks, or you've heard about it but never gave it a shot, Stay Woke gives people of all genders, identities, colors, religions, ages, and economic backgrounds the tools to stop wasting time, overcome self-doubt, and wake up to the lives we were really born to live.
About the Author
---
From growing up with gunshot holes outside of his bedroom window, to sharing the stage with Deepak Chopra, Justin Michael Williams knows well the power of healing to overcome. He is an author, transformational speaker, and top 20 recording artist who has been featured by Grammy.com, Yoga Journal, Billboard.com, Wanderlust, and SXSW. With over a decade of teaching experience, Justin has become a pioneering voice for diversity and inclusion in wellness.
Praise For…
---
"The world needs all its flowers, and you are one. Whether for personal stress reduction, a greater sense of belonging and being beautiful and okay as you are, or for catalyzing racial, social, and economic justice in our time, this book could be a godsend, a portal into embodied clarity, wakefulness, meaning, and action. Enter. Enter. Enter. And trust in your capacity to flower in your own way for the sake of the world." —Jon Kabat-Zinn, PhD, author of Full Catastrophe Living and Mindfulness for All, founder of Mindfulness-Based Stress Reduction (MBSR)

"I started meditating after recognizing the rage inside of me was eating away at my spirit. I wish I would have had Williams' book as a young person navigating racism, sexism, and homophobia. Stay Woke is a beacon of light in a time of deep despair. We are reminded through Justin's writing how necessary our healing actually is." —Patrisse Cullors, New York Times bestselling author of When They Call You a Terrorist

"Clear, empowering, practical, and joyful." —Jack Kornfield, PhD, author A Path with Heart

"'If you can worry, you can meditate.' When I read those words from Justin Michael Williams, I knew this book was not just for me, but is for ALL of us. We live in one of the most problematic times in all of American history. This book was masterfully written to help guide us through the world that we're actually in. So many times I've wanted to pick up and read something to help me have a healthier head space, but those texts are so often written from a place of privilege. This book is not that. It acknowledges the real challenges we're facing and helps guide us through them. It's the best book of its kind I've ever read." —Shaun King, activist and founder of The North Star

"Williams has created something special that can truly help us expand our self-awareness. This inspiring book will uplift many by genuinely meeting people where they are at. Out of the many voices in the world, this is one we should listen to." —Yung Pueblo [Diego Perez], author of Inward

"As a longtime meditator, I've seen the power of meditation first hand. Stay Woke is a beautiful, action-packed guide to making this vital practice accessible for everyone. Do yourself, your family, and the world a favor and get started now." —Marie Forleo, New York Times #1 bestselling author of Everything is Figureoutable and founder of B-School

"Imagine going on a journey with a friend who inspires you to become your most resilient, creative, and caring self, no matter the challenges life and the world confront you with. Whether you're facing being marginalized and disempowered or simply want to learn ways to strengthen your mind, our capable guide of Stay Woke provides the personally tested and scientifically grounded tools and tips to build a solid way of living during these difficult times. Soak in these words of wisdom from Justin Michael Williams and you may just find yourself smiling more from the inside out, finding more joy, meaning, and connection in your everyday life. What a gift for us all!" —Daniel J. Siegel, MD, New York Times bestselling author of The Whole Brain Child

"Meditation can be wonderfully liberating or it can be oppressive and frustrating. The difference is that you have to customize meditation to fit your type—your body type, emotion type, mental type, and the flow of your daily life. If we don't invent our own approach to meditation then we'll be oppressed by somebody else's system. Stay Woke will teach you how to create a practice that works for you and with you, regardless of what you're dealing with in your life." —Lorin Roche, author of The Radiance Sutras

"Justin's is the Millennial voice this world has been craving; this book is essential to our collective and individual healing. Stay Woke changes the way we look at meditation and taking action, reminding us that the power isn't somewhere out there—it's in each of us." —Elena Brower, author of Practice You

"Justin Michael Williams made meditation accessible for me. He demystified it and showed me it didn't have to be such hard work, that I could make it work for me." —Dyllón Burnside, actor

"We movement creators, makers, and practitioners often lose ourselves in the need to strategize and react to the everyday ongoing traumas in our society, while neglecting our own mental and physical well-being—fact! Justin Michael Williams's book, Stay Woke, debunks the mystery of meditation and gives us the permission that is so needed to create our own personalized practice. He reminds us that by creating space for truth and self-care we are better, more conscious, and more creative allies and leaders." —Gina Belafonte, actress & activist

"Justin is an empathetic guide who expertly meets his readers wherever they are on the meditation mountain. Far more than a meditation book, Stay Woke is a masterful handbook for life." — Chip Conley, New York Times bestselling author of Emotional Equations

"Spirited, empowering, and revolutionary, Stay Woke is a guide like none other. Reading this book clears out the clutter, wakes up the mind, and calls us home to our deep soul beauty. Justin Michael Williams is a radical new voice for the times we live in, not afraid to show up fully, go the distance, and embrace the full spectrum of life. Change is here. Rooted and real, authentic and courageous, this guide will change your life and invite you to a whole new realm of possibility. With just the right mix of stories, practices, research, and inspiration, this book shows us how to wield a new kind of magic and calls to action the power to rise up together. P.S.: Thank you Grandmother Baca for your invincible spirit that has moved mountains and reached into all our hearts. The evolutionary power of your spirit now impacts profound change." —Sianna Sherman, founder and visionary of Rasa Yoga, RITUAL, and Mythic Yoga Flow

"Stay Woke is for all of us, and especially for those whose life is not always safe and surrounded by privilege. It is for those of us who may worry about paying the rent, or being stopped by the police, or not having a public space that says we belong. Stay Woke is a book for those who would not separate spirituality and meditation from a life of being marginalized, or of dealing with trauma. Justin Michael Williams reunites our spiritual life, meditation, with messy, real-life anxiety and struggle. He offers a deep way of being, without requiring we become something we are not. Justin has given us a needed gift that is for all, not just the rich or middle class. Stay Woke." —john a. powell, professor of law and of African-American & Ethnic Studies at the University of California at Berkeley; author of Racing to Justice

"Stay Woke is an essential guide to conquering the inner landscape of doubt, unraveling it finally so that you may experience freedom and delicious revelation. Justin's instructions are as rhythmic as his music, sure to get you both meditating and dancing to the beat not only of your own drummer, but the drumbeat of your ultimate purpose." —Zhena Muzyka, author of Life by the Cup and founder of Club Magic Hour

"In Stay Woke, Justin Michael Williams provides a blueprint guiding those who have been excluded from holistic self-care practices such as meditation. He offers a relatable set of reflections and tools to help process the existential stress that is rampant in the daily lives of marginalized people. Meditation isn't a practice we engage in to escape the world but a practice we engage in to free us from the emotional and psychological tether that the world weighs upon us. This book is for everyone, especially those who have placed their bodies on the front lines to fight for justice, because that work is only sustainable when we practice self-care." —Latham Thomas, Founder of Mama Glow and bestselling author of Own Your Glow