You are here
Tasting Whiskey: An Insider's Guide to the Unique Pleasures of the World's Finest Spirits (Paperback)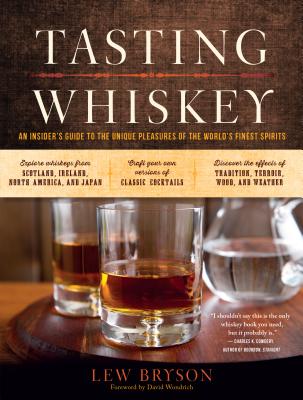 List Price: $19.95
Our Price: $16.96
(Save: $2.99 15%)
Available (Ships in 3-15 Business Days)
Description
---
Pour a stiff drink and crack open this comprehensive guide to everything there is to know about the world's greatest whiskeys. Exploring the traditions behind bourbon, Scotch, Irish, and even Japanese whiskey, you'll discover how unique flavors are created through variations of ingredients and different distilling techniques. With advice on how to collect, age, and serve whiskey, as well as suggestions for proven food pairings, you'll be inspired to share your knowledge and invite your friends over for a delicious whiskey tasting party. 
About the Author
---
Lew Bryson, the author of Tasting Whiskey, is the managing editor, features writer, and columnist for Whisky Advocate magazine. He lives in Newtown, Pennsylvania.
David Wondrich is a founding member of The Museum of the American Cocktail and the author of
Punch
and
Imbibe.
Praise For…
---
2015 IACP Food Writing/Cookbooks award nominee in the Wine, Beer, and Spirits category

"Takes on the whiskey world in down-and-dirty details, from production to tasting. With maps, infographics and flavor profiles for iconic bottlings, alongside Bryson's smart, straightforward text, Tasting Whiskey is both accessible to novices and compelling for the expert."
— Wine Spirits

"Whether you're a novice drinker or a malt connoisseur, Bryson has something to teach you — and you'll enjoy every word."
— Clay Risen, author of American Whiskey, Bourbon and Rye

"An instant whiskey classic that will make all whiskey geeks smarter than their friends."
— Fred Minnick, author of Whiskey Women

"I shouldn't say this is the only whiskey book you need but it probably is."
— Charles K. Cowdery, author of Bourbon, Straight

"Whether you're a novice drinker or a malt connoisseur, Bryson has something to teach you — and you'll enjoy every word."—Clay Risen, author of American Whiskey, Bourbon and Rye

"An instant whiskey classic that will make all whiskey geeks smarter than their friends."—Fred Minnick, author of Whiskey Women

"I shouldn't say this is the only whiskey book you need but it probably is."—Charles K. Cowdery, author of Bourbon, Straight