You are here
Wealth Supremacy: How the Extractive Economy and the Biased Rules of Capitalism Drive Today's Crises (Paperback)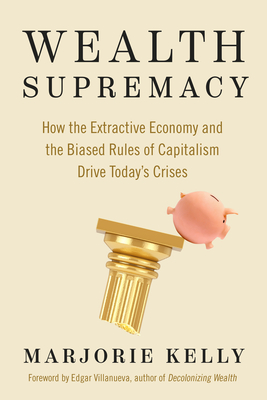 List Price: $22.95
Our Price: $20.66
(Save: $2.30 10%)
Available (Ships in 3-15 Business Days)
Description
---
A powerful analysis of how the bias towards wealth that is woven into the very fabric of American capitalism is damaging people, the economy, and the planet, and what the foundations of a new economy could be.
This bold manifesto exposes seven myths underlying wealth supremacy, the bias that institutionalizes infinite extraction of wealth by and for the wealthy, and is the hidden force behind economic injustice, the climate crisis, and so many other problems of our day:
The Myth of Maximizing: No amount of wealth is ever enough.
The Myth of Fiduciary Duty: Corporate managers' most sacred duty is to expand capital.
The Myth of Corporate Governance: Corporate membership must be reserved for capital alone.
The Myth of the Income Statement: Income to capital must always be increased, while income to labor must always be decreased.
The Myth of Materiality: Profit—material gain—alone is real, while social and environmental damages are not.
The Myth of Takings: The first duty of government must be the protection of private property.
The Myth of the Free Market: There should be no limits on the field of action of corporations and capital.
Kelly argues instead for the democratization of ownership: public ownership of vital services, worker-owned businesses, and more. And she sketches the outlines of a non-extractive capitalism that would be subordinate to the public interest. This is an ambitious reimagining of the very foundations of our economy and society.
About the Author
---
Marjorie Kelly is Distinguished Senior Fellow at The Democracy Collaborative, a national R&D lab for a democratic economy. She was named by Fast Company as one of "15 people at the forefront of reinventing our economic system." Her classic book, The Divine Right of Capital, is credited by Jay Coen Gilbert, B Lab co-founder, as having "inspired the B Corp movement." Her subsequent books, Owning Our Future and The Making of a Democratic Economy, won awards and acclaim. Formerly, Marjorie was a fellow at Tellus Institute, where she cofounded Corporation 20/20, after co-founding and editing Business Ethics magazine.
Praise For…
---
"Marjorie Kelly has the rare ability to combine her decades of business-insider insight with the imagination and conviction to reinvent the future. Setting out entrenched systemic problems, she lucidly and compellingly counters them with inspiring systemic solutions. If you want to understand the economy we've inherited and create an economy worth bequeathing to our children, read this book."
—Kate Raworth, author of Doughnut Economics
 
"I love this book. As Marjorie Kelly says in this brilliant work, our public discourse does little to question the core assumptions of our economy. Kelly explodes these as misleading myths. We badly need to build a future based on a new and transformative economic vision, and I cannot think of a better place to start than Kelly's book. Highly recommended."
—James Gustave Speth, author of America the Possible; former Dean, Yale School of the Environment; and cofounder of the Natural Resources Defense Council
 
"I'm still reeling from this book. It's splendid—a compelling vision of an Economy for All and how far we must go to achieve it. I predict that the term 'wealth supremacy' will replace 'income inequality.' It's way more expressive."
—John Abrams, founder and President Emeritus, South Mountain Company, and author of Companies We Keep
 
"Marjorie Kelly inspired the B Corp movement with The Divine Right of Capital."
—Jay Coen Gilbert, cofounder of B Lab
 
"The Divine Right of Capital was my matrix moment in unveiling economic reality. In Wealth Supremacy, Kelly builds on that classic—naming the invisible sickness of our time, the deep bias that legitimizes the unsustainable extraction of wealth. She describes this disease so clearly it can never be unseen."
—Gideon Rosenblatt, former Microsoft executive and Steward, Token Engineering Commons

"Marjorie Kelly invites us 'to begin by seeing'—to view the real world of capitalism where extraction and individualism reign. Her book is a call to denaturalize the myths controlling our lives and stop sleepwalking past the awful abuses of our times. The democratic economy she describes is an inspiring—and conceivable—future, but one where we must collectively awaken to take action."
—Ian MacFarlane, CEO, EA Engineering, Science, and Technology, PBC
 
"Marjorie illuminates the perversion of the financial systems and incentives we humans have built. And she does it in a way that sneaks up on the reader. Reasonable, gracious, kind—making it pretty darned hard to ignore the message and the inspiration she offers."
—Leslie Christian, Senior Investment Advisor, NorthStar Asset Management, and former CEO, Portfolio 21 Investments
 
"What might it take for a wholesale reset of our obsession with and idolization of extreme wealth, when it's so clearly stealing the future? It starts by naming it: Wealth Supremacy."
—Willow Berzin, Chief Assembler, Coalition of Everyone
 
"The Divine Right of Capital was transformative to my thinking as an entrepreneur: what is the purpose of any business if not to improve the lives of everyone it touches? This was the spark that ignited our decision to transfer ownership of Dansko to our employees. Wealth Supremacy deepens our resolve to imagine a new paradigm, reversing decades of extraction in Belize by giving the land and its resources back to the people in trust and creating a regenerative agribusiness to support it."
—Mandy Cabot, founder of Dansko and cofounder and Director, Silk Grass Farms, Belize
 
"'Virtually all successful businesses end up in the maw of finance,' says Marjorie Kelly, who brilliantly explains financialization and why its bloated form has become so destructive for human well-being. She documents the myriad ways the owners and managers of huge pools of capital skew power away from workers, diverting the fruits of productivity to outrageous incomes for the very few. She describes the terrifying prospect of finance absorbing the natural world as a new 'asset class' of ecosystem services. And then she lays out the possibilities for transformation, for a new form of political economy that would transfer wealth and power from the hands of the few to the control of the many. It is a critically needed vision of a sane, humane, ecological economy, built with practical examples that have the potential to carry vision to reality."
—Neva Goodwin, Distinguished Fellow, Economics in Context Initiative, Boston University, and former Codirector, Global Development and Environment Institute, Tufts University