Frank Miller's Sin City Volume 1: The Hard Goodbye (Deluxe Edition) (Hardcover)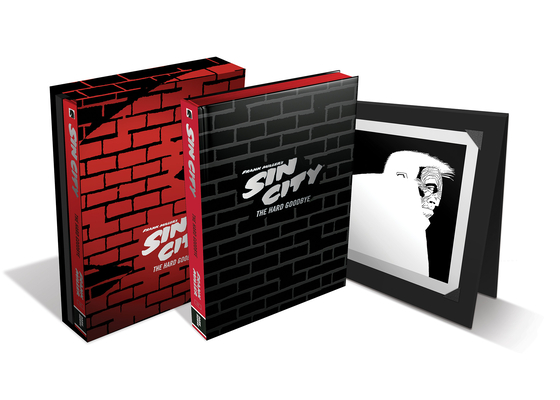 $100.00

Available (Ships in 1-15 Business Days)
(This book cannot be returned.)
Description
---
The crime noir masterpiece that has gripped audiences for decades is back in an oversized and slipcased hardcover that includes a portfolio, exclusive print, and a sketchbook of never-before-published development art.


There is no light in a place like Sin City—only misery, crime, and perversion. Amid the filth and degenerates, the hulking and unstable ex-con Marv has found an angel. Her name is Goldie—a goddess who has blessed this wretched low-life with one night of heaven. But good things never last—a few hours later, Goldie is dead—murdered at his side without a mark on her body. Who was she? And who wanted her dead? The cops are on their way—it smells like a frame job, and this time, they won't let him live. Whoever killed Goldie . . . is going to pay.

Frank Miller returns to his comic opus with luxury editions of the graphic novel series, beginning with Volume 1 The Hard Goodbye. A combination of high-end materials, finishes, and iconic textures from the series make for an elegant package which evokes the grittiness of Sin City. Housed in a cloth covered slipcase with foil stamping and printing is an oversized hardcover featuring a soft touch matte finish with spot gloss and foil stamping. The hardcover includes an exclusive sketchbook of never-before-published development art selected by Frank. As well, this volume contains the pinup gallery created for the 2021 editions of Volume 1, featuring art from Joyce Chin, Amanda Conner, Klaus Janson, Paul Pope, Philip Tan, and Gerardo Zaffino. Also included in the slipcase is a portfolio featuring a deluxe print of new artwork by Frank Miller.

As an added bonus, each volume's slipcase has a different letter from the logo, placed on the front cover in such a way that alone it looks like a splash of red wrapping around the slipcase. But when all seven volumes are together it is clear that the grouping spells out "Sin City."

Discerning fans and new readers can experience this unparalleled noir masterpiece in this, the most luxurious edition to date!


FOR MATURE READERS.

About the Author
---
Frank Miller began his career in comics in the late 1970s, first drawing then writing Daredevil for Marvel Comics, creating what was essentially a crime comic disguised as a superhero book. It was on Daredevil that Miller gained notoriety, honed his storytelling abilities, and took his first steps toward becoming a giant in the comics medium. After Daredevil came Ronin, a science-fiction samurai drama that seamlessly melded Japanese and French comics traditions into the American mainstream; and after that, the groundbreaking and acclaimed Batman: The Dark Knight Returns and Batman: Year One, both of which not only redefined the classic character, but also revitalized the industry itself. Finally able to fulfill his dream of doing an all-out, straight-ahead crime series, Miller introduced Sin City in 1991. Readers responded enthusiastically to Miller's tough-as-leather noir drama, creating an instant sales success. His multi-award-winning 300 series from Dark Horse, a telling of history's most glorious and underreported battle, was brought to full-blooded life in 1998. In 2001, Miller returned to the superhero genre with the bestselling Batman: The Dark Knight Strikes Again. Frank Miller continues to push the medium into new territories, exploring subject matter previously untouched in comics, and his work consistently receives the highest praise from his industry peers and readers everywhere. In 2005, with the hugely successful Sin City movie release, codirected with Robert Rodriguez, Miller added a director's credit to his already impressive résumé and introduced his characters to an entirely new legion of fans worldwide.