You are here
A Disturbance in the Force: How and Why the Star Wars Holiday Special Happened (Paperback)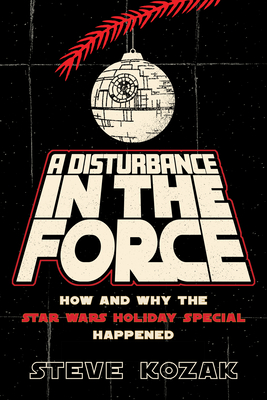 List Price: $24.95
Our Price: $21.21
(Save: $3.74 15%)
Backordered-Email or text (412) 585-2651 for Availability Updates
Description
---
Bea Arthur as the owner of the Mos Eisley Cantina. Long scenes entirely of Wookies bleating at each other, without subtitles. Harvey Korman, in drag, as a four-armed Space Julia Child. Six minutes of Jefferson Starship performing for Art Carney and a bored Imperial Guard. Mark Hamill, fresh from his near-fatal motorcycle accident, slathered in pancake makeup. A salacious holographic burlesque from Diahann Carroll.
Even by the standards of the 1970s, even compared to Jar-Jar Binks, the legendary 1978 Star Wars Holiday Special is a peerlessly cringeworthy pop-culture artifact. George Lucas, who completely disowned the production, reportedly has said, "If I had the time and a sledgehammer, I would track down every copy of that show and smash it." Just how on earth did this thing ever see the light of day?
To answer that question, as Steven Kozak shows in this fascinating and often hilarious inside look into the making of the Special, you have to understand the cultural moment in which it appeared--a long, long time ago when cheesy variety shows were a staple of network television and Star Wars was not yet the billion-dollar multimedia behemoth that it is today. Kozak explains how the Special was one piece of a PR blitz undertaken by Lucas and his colleagues as they sought to protect the emerging franchise from hostile studio executives. He shows how, despite the involvement of some of the most talented people in the business, creative differences between movie and television writers led to a wildly uneven product. He gives entertaining accounts of the problems that plagued production, which included a ruinously expensive cantina set; the acrimonious departure of the director and Lucas himself; and a furious Grace Slick, just out of rehab, demanding to be included in the production.
Packed with memorable anecdotes, drawing on extensive new interviews with countless people involved in the production, and told with mingled affection and bewilderment, this never-before-told story gives a fascinating look at a strange moment in pop-culture history that remains an object of fascination even today.
About the Author
---
Steven Kozak is a veteran of the television industry who has worked behind the scenes at shows such as Whose Line Is It Anyway?, You Gotta See This, and The Tonight Show with Jay Leno. He is currently director of research and clearances at Jimmy Kimmel Live