You are here
The Toughest Gun Control Law in the Nation: The Unfulfilled Promise of New York's Safe ACT (Paperback)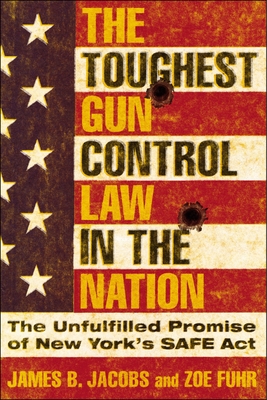 $26.40

Available (Ships in 3-15 Business Days)
Description
---
A comprehensive assessment of real gun reform legislation with recommendations for better design, implementation and enforcement
A month after the Sandy Hook Elementary School shooting, New York State passed, with record speed, the first and most comprehensive state post-Sandy Hook gun control law. In
The Toughest Gun Control Law in the Nation
, James B. Jacobs and Zoe Fuhr ask whether the 2013 SAFE Act -- hailed by Governor Andrew Cuomo as "the nation's toughest gun control law" - has lived up to its promise. Jacobs and Fuhr illuminate the gap between gun control on the books and gun control in action. They argue that, to be effective, gun controls must be capable of implementation and enforcement. This requires realistic design, administrative and enforcement capacity and commitment and ongoing political and fiscal support. They show that while the SAFE Act was good symbolic politics, most of its provisions were not effectively implemented or, if implemented, not enforced. Gun control in a society awash with guns poses an immense regulatory challenge.
The Toughest Gun Control Law in the Nation
takes a tough-minded look at the technological, administrative, fiscal and local political impediments to effectively keeping guns out of the hands of dangerous persons and eliminating some types of guns altogether.