You are here
Reforming Criminal Justice: A Christian Proposal (Hardcover)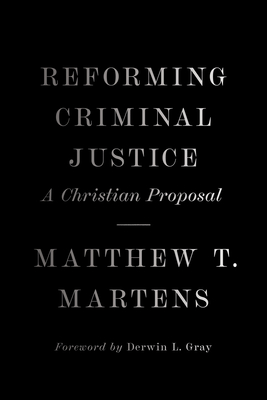 List Price: $34.99
Our Price: $29.74
(Save: $5.25 15%)
Available (Ships in 3-15 Business Days)
Description
---
Noted Attorney and Seminary Graduate Matthew T. Martens Answers the Question: Does the Design and Operation of the American Criminal Justice System Reflect Christian Love of Neighbor?
Jesus told his followers that the entirety of the Old Testament's law is encapsulated in the commands to love God and to love their neighbors as themselves. In Reforming Criminal Justice: A Christian Proposal, Matthew T. Martens argues that love of neighbor must be the animating force for true reformation of the criminal justice system, obligating us to seek the best for both the criminally victimized and the criminally accused.
Using his theological training Martens reveals how Scripture provides several guideposts (accuracy, due process, accountability, impartiality, and proportionality) for loving our neighbors as it relates to criminal justice. Then, drawing on his near quarter century practicing criminal law, he examines how America's justice system falls short of the biblical standard. By understanding how our current system operates and considering how love of neighbor relates to issues of crime and justice, we will be better equipped to seek true Christian reform of the justice system.
A Biblical Perspective on Criminal Justice: Offers a biblical framework for thinking about the concept of justice for both the victim and the perpetrator
Examines the History of the American Criminal Justice System: Surveys the evolution of the criminal justice system in the United States with a focus on its misuse from the time of the Civil War to the civil rights movement
Assesses the Criminal Justice System: Examines the operation of the American justice system today, including plea bargains, assistance of counsel, the death penalty, and more
Foreword by Derwin L. Gray: Pastor of Transformation Church in Indian Land, South Carolina, and the author of How to Heal Our Racial Divide and Building a Multiethnic Church
About the Author
---
Matthew T. Martens (JD, University of North Carolina School of Law; MABS, Dallas Theological Seminary) is a trial lawyer and partner at an international law firm in Washington, DC. He has spent the bulk of his more than twenty-five-year legal career practicing criminal law both as a federal prosecutor and as a defense attorney. He served as a law clerk to Chief Justice William Rehnquist at the US Supreme Court and also as a political appointee in the criminal division of the US Justice Department under Attorney General Ashcroft. Matt and his wife are members at Capitol Hill Baptist Church in Washington, DC, and have two sons and a daughter.