Why Don't Astronauts Burp?: Questions and Answers about Space (Big Ideas #6) (Paperback)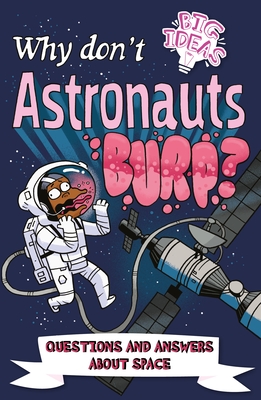 List Price: $6.99
Our Price: $6.29
(Save: $0.70 10%)
Description
---
What makes stars shine? Which planet would float in water? Have aliens ever visited Earth?
In this astonishing book, young readers can discover the scientific answers to mind-boggling questions about our solar system, galaxy and Universe. Featuring laugh-out-loud illustrations, this awesome fact book is overflowing with out-of-this-world facts and stats that are great for sharing. Includes:
- Peculiar plants
- The moons of the solar system
- Human space travel
- Black holes This book introduces young minds to the science of space in a engaging and memorable way. Perfect for curious kids aged 7+.
ABOUT THE SERIES:
Big Ideas is a dynamic, educational fun fact series for children aged seven and up, illustrated throughout with humorous cartoons. Packed with surprising facts, stats, and records that kids will just love to share, it revels in all things weird, unexpected, mind-blowing, funny, and gross
About the Author
---
Anne Rooney writes on science and the history of science for children and adults. Her Dinosaur Atlas was shortlisted for the Royal Young People's Book Award 2018 and won the School Library Association Information Book Award (ages 7-12), 2018. She has been a Royal Literary Fund Fellow, most recently at Newnham College, University of Cambridge. William Potter is a prolific author of children's non-fiction. He has also written and edited a wide range of well-known comics and magazines, such as Teenage Mutant Ninja Turtles, Sonic the Comic, Marvel Fact Files, Marvel Chess Specials and DC Chess Collection. He lives in Haslemere, UK. Luke Seguin-Magee is an artist of children's books and comics. In the course of his career he has also designed, made graphics, illustrations and animations for computer games, websites and apps for a wide range of clients in Denmark, Canada and USA. He hails from Montreal, Canada, and now resides in Copenhagen and Stockholm. He studied fine art in Canada and multimedia design in Denmark. He is married with four children - ranging in age from 6 to 22.