You are here
Victory Is Assured: Uncollected Writings of Stanley Crouch (Hardcover)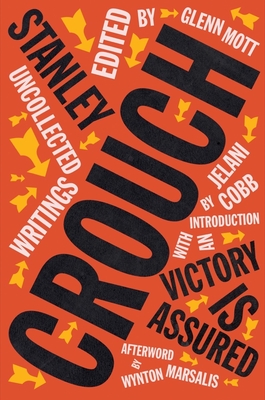 List Price: $32.50
Our Price: $27.63
(Save: $4.88 15%)
Description
---
The grievous loss of Stanley Crouch, one of America's most renowned intellectuals, is underscored by the posthumous appearance of these remarkable essays.
With Stanley Crouch's untimely death in 2020, American literature lost "a critic without peer" (Ta-Nehisi Coates). Born in Los Angeles in 1945, Crouch—a towering stylist, fearless columnist, and without question, one of the finest jazz critics of all time—was Rabelaisian both in stature and in intellectual appetite. Beloved yet cantankerous, Crouch delighted and enflamed the passions of his readers in equal measure, whether writing about race, politics, literature, or music.
In these essays—some discovered on his computer, unpublished until now—Crouch tackles subjects ranging from Malcolm X ("a thorned bud standing in the shadow of sequoias") to the films of Quentin Tarantino ("With Django, Tarantino has slipped down . . . into a shallow and bloodstained hip-hop turn that his own best work has well-refuted"). Introduced by Jelani Cobb, with an afterword by Wynton Marsalis, and collected by his longtime editor Glenn Mott, Victory Is Assured canonizes the legacy of an inimitable, indispensable American critic.
About the Author
---
"A stylish butcher of sacred cows" (Salon), and self-described "radical-pragmatist" Stanley Crouch (1945–2020) was a columnist, novelist, essayist, and television commentator. A cofounder of Jazz at Lincoln Center, he is the author of eight critically acclaimed books.

Glenn Mott edited Crouch's "American Perspectives" columns for over a decade.

A staff writer at The New Yorker, Jelani Cobb was a former student of Stanley Crouch.

Wynton Marsalis is an internationally acclaimed musician, composer, bandleader, and educator. He is the artistic director of Jazz at the Lincoln Center.
Praise For…
---
Stanley Crouch's development as a critic is on full display in this standout collection of 58 essays, described by Mott in his preface as a sort of 'intellectual autobiography.' 'Diminuendo and Crescendo in Dues' is a stunning account of Duke Ellington playing at Disneyland in 1973, while "The King of Constant Repudiation" delivers a takedown of what Crouch considered phony activism: he writes of critic LeRoi Jones that 'he has almost completely traded-in a brilliant and complex talent for the most obvious hand-me-down ideas, which he projects in second-rate pool hall braggadocio.' Nor did Crouch sympathize with hollow notions of machismo—he writes in 'Miles Davis, Romantic Hero' about finding in Davis's performances 'public visions of tenderness that were, finally, absolute rejections of everything silly about the version of masculinity that might hobble men in either the white or the Black world.' Most of all, it is Crouch's abiding humanism that comes through, casting a critical eye on 'those 'race men,' Black or white, who think they love Black people but only as receptacles for theories that use data to remove the mystery from life.' This is an essential collection for fans of Crouch's writing, or anyone interested in the art of cultural criticism.
— Publishers Weekly, starred review