You are here
STFU: The Power of Keeping Your Mouth Shut in an Endlessly Noisy World (Hardcover)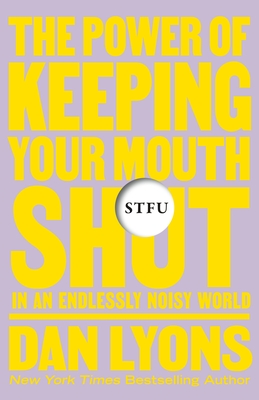 List Price: $26.99
Our Price: $22.94
(Save: $4.05 15%)
Available (Ships in 3-15 Business Days)
Description
---
"Entertaining, illuminating, and inspiring! More than a book, it's a public service announcement that we'd all do well to―well, STFU and listen to!"
―Sarah Knight, New York Times bestselling author of Calm the F*ck Down

New York Times bestselling author Dan Lyons is here to tell you - and don't take this the wrong way - that you really need to shut the f*ck up!

Our noisy world has trained us to think that those who get in the last word win, when in fact it's those who know how to stay silent who really hold the power. STFU is a book that unlocks this power and will change your life, freeing you to focus on what matters. Lyons combines leading behavioral science with actionable advice on how to communicate with intent, think critically, and open your mind and ears to the world around you.

Talk less, get more. That's what STFU is all about. Prescriptive, informative, and addictively readable, STFU gives you the tools to become your better self, whether that's in the office, at home, online, or in your most treasured relationships. Because, after all, what you say is who you are.

So take a deep breath, turn the page, and quietly change your life.
About the Author
---
Dan Lyons is the author of Disrupted: My Adventures in the Startup Bubble, a New York Times bestselling memoir, and Lab Rats: How Silicon Valley Made Work Miserable for the Rest of Us. He was also a writer for the hit HBO comedy series Silicon Valley. As a journalist, he spent a decade covering Silicon Valley for Forbes, ran tech coverage at Newsweek, and contributed to Fortune, the New York Times, Wired, Vanity Fair, and the New Yorker.
Praise For…
---
"Entertaining, illuminating, and inspiring! More than a book, it's a public service announcement that we'd all do well to—well, STFU and listen to!"
—Sarah Knight, New York Times bestselling author of Calm the F*ck Down

"Read this book--your boss will thank you. Your spouse will thank you. And you'll thank yourself! Good communication is measured not by the speaker, but by the listener. How can you know what's going on in another person's ear? Start by STFU! For most of us, that's easier said than done. Dan Lyons will explain how to do it, and why it will improve your relationships at work and at home."
—Kim Scott, New York Times bestselling author of Radical Candor

"STFU convinced me that, by keeping my big mouth shut, I will be happier and more productive and so will everyone else in my life. Dan Lyons' ridiculously funny gem taught me how to shut up, pay fierce attention to others, stifle my 'manalogues' and so many more antidotes for my talkaholic tendencies. My only problem is that, after reading STFU, I can't stop talking about how much I love this book!"
—Robert I. Sutton, organizational psychologist, Stanford Professor, and New York Times bestselling author of seven books including The No Asshole Rule

"Lyons cuts through the noise even as he critiques it. Timely, clever, and important. Need I say more? (Probably not)."
—David Litt, former speechwriter for President Barack Obama and New York Times bestselling author of Thanks, Obama

"Want to help with those loudmouthed jerks, the ones polluting our media and our minds of late? Want to avoid being one yourself? STFU teaches us what we all need to learn: how to listen, pause and speak. How to communicate with intention, and power. The book opens your mind by closing your mouth. I could go on, but I'll shut up now."
—Aaron James, New York Times bestselling author of Assholes: A Theory

Previous Praise for Dan Lyons' Disrupted

"You couldn't have written a tastier ending, even for HBO."
—Dwight Garner, New York Times

"Disrupted by Dan Lyons is the best book about Silicon Valley today....Simultaneously hilarious and terrifying."
—Los Angeles Times

"Scathingly funny....Like the show Silicon Valley, Disrupted nails the workings of spastic, hypocritical, delusional tech culture."
—New York Post