You are here
Correction: Parole, Prison, and the Possibility of Change (Hardcover)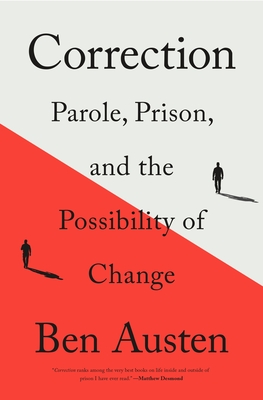 List Price: $29.99
Our Price: $25.49
(Save: $4.50 15%)
Available (Ships in 3-15 Business Days)
Description
---
NYT EDITOR'S CHOICE • WASHINGTON POST BEST NONFICTION OF 2023 • FROM THE CRITICALLY ACCLAIMED AUTHOR OF HIGH-RISERS comes a groundbreaking and honest investigation into the crisis of the American criminal justice system–through the lens of parole. Perfect for fans of Michelle Alexander's The New Jim Crow and Bryan Stevenson's Just Mercy

"Correction ranks among the very best books on life inside and outside of prison I have ever read." ―Matthew Desmond, Pulitzer Prize-winning author of Evicted

"Correction provides a revelatory lens for examining mass incarceration." –The Washington Post

A Most Anticipated Book of 2023: Chicago Review of Books, The Chicago Tribune, The Next Big Idea Club

The United States, alone, locks up a quarter of the world's incarcerated people. And yet apart from clichés—paying a debt to society; you do the crime, you do the time—there is little sense collectively in America what constitutes retribution or atonement. We don't actually know why we punish.

Ben Austen's powerful exploration offers a behind-the-scenes look at the process of parole. Told through the portraits of two men imprisoned for murder, and the parole board that holds their freedom in the balance, Austen's unflinching storytelling forces us to reckon with some of the most profound questions underlying the country's values around crime and punishment. What must someone who commits a terrible act do to get a second chance? What does incarceration seek to accomplish?

An illuminating work of narrative nonfiction, Correction challenges us to consider for ourselves why and who we punish–and how we might find a way out of an era of mass imprisonment.
About the Author
---
Ben Austen is a journalist from Chicago. He is the author of High-Risers: Cabrini-Green and the Fate of American Public Housing, which was longlisted for the Andrew Carnegie Medal of Excellence in Nonfiction and named one of the best books of 2018 by Booklist, Mother Jones and the public libraries of Chicago and St. Louis. A former editor at Harper's Magazine, Ben is the co-host of the podcast Some of My Best Friends Are. His feature writing has appeared in the New York Times Magazine, GQ, Wired and many other publications.
Praise For…
---
**A Next Big Idea Club must-read title for November 2023**

"[Austen] explains our world, its codes of conduct and how we adapt, and sometimes unravel, as we try to survive."–The New York Times

"A critical contribution to discussions of how to reform American criminal justice, illuminating how we might change the process of giving people second chances and re-envision the very purpose of our carceral system." –The Washington Post

"Austen provides a thoughtful and clarifying look at parole and its often fraught place in the arc of the criminal justice system in the U.S." ―Booklist, starred review

"Ben Austen… returns with Correction a tight (less than 300-page) history of U.S. prisons and penance, alongside tales of two men and their endless paths. A damning act of intense reporting leading to unsettled questions: Do we believe in atonement? If so, what does it look like? And how serious can we be when a slight shift in courtroom momentum condemns a life? You'll hear a lot about this one." ―The Chicago Tribune

"A cleareyed, compassionate, urgent appeal for prison reform." ―Kirkus

"Austen brings his skills for unflinching storytelling to take aim at mass incarceration and America's deeply flawed justice system. This illuminating work of narrative nonfiction challenges readers to consider for ourselves why and who we punish and how we might find a way out of an era of mass imprisonment." ―Chicago Review of Books

"This is everything you could hope for in a book: an engrossing narrative of two men doing hard time, a deeply-researched history of incarceration in America, and a damn good read. Austen's exhaustive reporting forces us to consider anew the nature of violence, the capriciousness of the justice system, our belief in second chances, and the purpose of punishment altogether. Correction ranks among the very best books on life inside and outside of prison I have ever read." ―Matthew Desmond, Pulitzer Prize-winning author of Evicted

"Correction is a marvel of meticulous reporting. Ben Austen has crafted an unsparing, vivid and deeply human portrait not only of the two men at the heart of the story, but the entire system that will determine their fate. If we are to have an honest dialogue about criminal justice in this nation we must grapple with our deeply flawed parole practices. This book should be at the center of that conversation." —Jelani Cobb, Pulitzer Prize-nominated journalist and dean of the Columbia Journalism School

"Equal parts absolutely riveting, extraordinarily moving, and utterly appalling, Ben Austen's latest excavation of another American policy that promised to make the nation better off, but instead ravaged the lives of countless of its citizens, leaves one haunted, but more determined than ever to do things very, very differently moving forward. One of the best books I have read in a long time." —Heather Ann Thompson, Pulitzer Prize-winning author of Blood in the Water: The Attica Prison Uprising of 1971 and its Legacy

"Correction takes head-on the hard issues of parole, and explains why we lock up more of our own than any other country. Through the lives of two men who served far too much time, Ben Austen bares the awful truth, but also shows a way out of our mess. This book should be required reading for every lawyer and law student." —John Grisham, author of #1 New York Times bestseller The Innocent Man

"In Correction, Ben Austen investigates America's painful criminal-justice crossroads with a necessary urgency and an inspiring moral clarity. Are human beings capable of change? Is forgiveness actually possible? Do we as a society really want justice, or revenge? Austen bears down on these questions with engrossing immersive reportage and transcendent heart and soul. The result is invaluable—and unforgettable." —Robert Kolker, author of #1 New York Times bestseller Hidden Valley Road

"Correction is non-fiction storytelling at its finest. The award-winning journalist Ben Austen follows the harrowing fifty-year journey of two men, convicted of horrific crimes, and their path to parole. And yet the question of whether they will be released or not, or of their innocence, is really a poignant and powerful story about our guilt for building the most punitive and shameful punishment system in the world, and our willingness, as a society, to change." —Khalil Gibran Muhammad, author of The Condemnation of Blackness: Race, Crime and the Making of Modern Urban America

"In Correction, Ben Austen masterfully brings to life the very real human conditions that underlie an otherwise opaque and cumbersome US parole system, one fraught with holes that seem to swallow up its own efficacy. As readers, we're compelled to ask why closure or redemption should be so hard to come by. A powerful work about a poorly understood phenomenon in our country." —Amanda Williams, artist, 2022 MacArthur Fellow