You are here
Digital Madness: How Social Media Is Driving Our Mental Health Crisis--and How to Restore Our Sanity (Hardcover)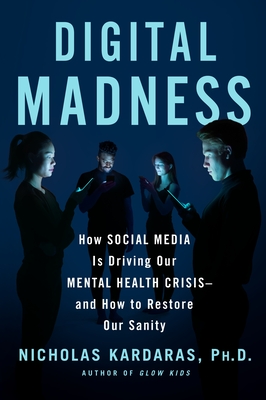 List Price: $28.99
Our Price: $24.64
(Save: $4.35 15%)
Available (Ships in 3-15 Business Days)
Description
---
From the author of the provocative and influential Glow Kids, Digital Madness explores how we've become mad for our devices as our devices are driving us mad, as revolutionary research reveals technology's damaging effect on mental illness and suicide rates—and offers a way out.

Dr. Nicholas Kardaras is at the forefront of psychologists sounding the alarm about the impact of excessive technology on younger brains. In Glow Kids, he described what screen time does to children, calling it "digital heroin". Now, in Digital Madness, Dr. Kardaras turns his attention to our teens and young adults and looks at the mental health impact of tech addiction and corrosive social media.

In Digital Madness, Dr. Kardaras answers the question of why young people's mental health is deteriorating as we become a more technologically advanced society. While enthralled with shiny devices and immersed in Instagram, TikTok, Twitter, Facebook and Snapchat, our young people are struggling with record rates of depression, loneliness, anxiety, overdoses and suicide. What's driving this mental health epidemic? Our immersion in toxic social media has created polarizing extremes of emotion and addictive dependency, while also acting as a toxic "digital social contagion", spreading a variety of psychiatric disorders.

The algorithm-fueled polarity of social media also shapes the brain's architecture into inherently pathological and reactive "black and white" thinking—toxic for politics and society, but also symptomatic of several mental disorders. Digital Madness also examines how the profit-driven titans of Big Tech have created our unhealthy tech-dependent lifestyle: sedentary, screen-staring, addicted, depressed, isolated and empty—all in the pursuit of increased engagement, data mining and monetization.

But there is a solution. Dr. Kardaras offers a path out of our crisis, using examples from classical philosophy that encourage resilience, critical thinking and the pursuit of sanity-sustaining purpose in people's lives. Digital Madness is a crucial book for parents, educators, therapists, public health professionals, and policymakers who are searching for ways to restore our young people's mental and physical health.
About the Author
---
DR. NICHOLAS KARDARAS is one of the country's foremost addiction experts. He was a professor at Stony Brook Medicine and has developed clinical treatment programs all over the country. He is the founder and Chief Clinical Officer of Maui Recovery in Hawaii, Omega Recovery in Austin and the Launch House in New York. He is also a frequent contributor to Psychology Today and FOX News, and has appeared on Good Morning America, ABC's 20/20, CNN, the CBS Evening News, PBS, NPR and FOX & Friends.
Praise For…
---
Praise for Digital Madness:

"Mental health has become one of the biggest issues of our time and Dr. Kardaras highlights a perfect storm that may have irreversible damage to our health if we don't act quickly. The growing risks and distractions prevalent in our society have never existed as they do now, and I can only thank Dr. Kardaras for his perceptive insight that will no doubt lead to real solutions to tackle the greatest mental-health crisis of our time. A must-read."
—Dr. Vanila M. Singh, M.D., Clinical Associate Professor, Stanford School of Medicine,
former Chief Medical Officer, U.S. Department of Health and Human Services

"Digital Madness is the book we need now! So many of us have participated willingly in the creation of a society addicted to digital devices and social media. Those willing to put down their devices long enough to read this book will not only learn how we can begin to unplug, they will also learn how we can begin to recover and regain our collective sanity."
—Pedro A. Noguera, Ph.D., Dean of the Rossier School of
Education at the University of Southern California

"Kardaras guides readers through a whirlwind exploration of social media–induced societal sickness. In our downward spiral of cultural crisis, Digital Madness—like Glow Kids before it—should be required reading for anyone who has ever clicked the Like button."
—Jeff Greenberger, Ph.D., Stony Brook University,
Professor of Classics, and Fulbright Scholar

"Kardaras expertly dismantles the world of big tech in Digital Madness, blending personal and professional experience to write an essential guide to the relationship between technology and mental health. The result is a book that's moving, convincing, and—given Kardaras's strength as a writer—a pleasure to read."
—Adam Alter, New York Times bestselling author of Irresistible and Drunk Tank Pink and NYU Stern School of Business Professor of Marketing and Psychology

"Digital Madness is as fascinating as it is alarming, reminding us that just because social media is now ubiquitous, it doesn't have to go unchecked at the expense of mental well-being. Calling on individuals and society at large to acknowledge and address a myriad of implications, Dr. Kardaras is leading a movement to prioritize public health as we navigate uncharted waters."
—Former congressman Patrick J. Kennedy, founder of the Kennedy Forum

"Digital Madness highlights in the most eloquent way our unnoticed prisoner self in the dark cave of social media. Dr. Kardaras addresses the impact of technology on mental health and our attempts to socialize in an ever-polarized digital world. In the wake of COVID-19, this book reflects our deepest concerns about life online, but also points the way out of the mental-health crisis. An outstanding contribution to contemporary mental-health matters, this is a must-read."
—Zoe Rapti, Deputy Minister of Mental Health, Greece

"Something has gone seriously wrong with American society, and the root cause is digital technology.... A frightening diagnosis of a corrosive plague by an articulate expert in the field." —Kirkus

"Psychologist Kardaras delivers a sobering account of how social media damages mental health. … Kardaras uses easy to understand language to provide a bracing look at the toxic psychological effects of too much tech. … Readers will be unnerved." —Publishers Weekly


Praise for Glow Kids:

"A paradigm shifting, mind bending account of excess and tragedy that should serve as a clarion call to rethink our ever evolving relationship with advancing technology." —Dr. Howard J. Shaffer, Associate Professor of Psychiatry, Harvard Medical School

"Read this book. Save our children's brains, now." —Paula Poundstone, comedian, author, Social Commentator, Screen-Free Kids Activist

"An invaluable resource and a wake up call about the risks our children face when we allow unfettered access to 'screen time.'" —Pedro A. Noguera, PhD, Distinguished Professor of Education at UCLA

"With the rigor of an investigative journalist and the insight of an addiction specialist, Kardaras manages to make a complex and uncomfortable topic both palatable and accessible. A highly recommended read." —Victoria Dunckley, MD, integrative child psychiatrist and author of Reset Your Child's Brain