You are here
No Pain, No Gaines: The Good Stuff Doesn't Come Easy (Hardcover)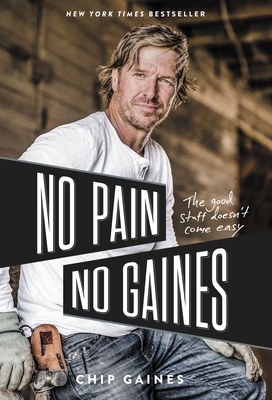 Description
---
A New York Times bestseller In a world that feels increasingly disconnected, it's time to reclaim a life of rich, authentic connection--because we are all made better when we trust one another and work together.
In his most vulnerable book to date, Chip Gaines opens up about his lifelong pursuit of building relationships with people from all walks of life. Chip emphasizes the importance of seeing people for who they are and not for what they can do for you, enabling you to build a strong community and a life of meaning, joy, and connection.
How does it happen? By being intentional about choosing the company you keep. Chip explains the value of seeking out people who are electrified by living according to their purpose, who will stand beside you as you tackle new challenges, and who bet on each other instead of the status quo. The key is being true to yourself, figuring out what you want to do with your life, and finding people who will lift you up along the way.
No Pain, No Gaines will open your eyes to valuable lessons, including how to:
Find the risks worth taking
Value what you bring to the table
Resist the status quo
Look outside yourself and your circle and foster connections with others
Get comfortable with being uncomfortably kind
Live life fully awake, not asleep at the wheel
A good life doesn't always come easy, but that's because the good stuff never does. It requires faith in people. It requires faith in yourself. It requires hope. And it requires a willingness to grow even when it hurts. In No Pain, No Gaines, through hard-won lessons and personal stories all told with his trademark blend of wit and wisdom, Chip Gaines will coach you on how to make your life rich and your relationships run deep.
About the Author
---
Chip Gaines is the cofounder of Magnolia, a home and lifestyle brand based in Waco, Texas, which he started with his wife, Joanna, in 2003. Born in Albuquerque and raised in the Dallas/Ft. Worth area, Chip graduated from Baylor University's Hankamer School of Business with a degree in marketing. An entrepreneur by nature, he started and sold many small businesses before the world came to know him and Joanna through HGTV's Fixer Upper. He is the author of two New York Times bestsellers, The Magnolia Story and Capital Gaines: Smart Things I Learned Doing Stupid Stuff. This October, Chip and Joanna return to television with the launch of the Magnolia Network.