You are here
Black Panther: Protectors of Wakanda: A History and Training Manual of the Dora Milaje from the Marvel Universe (Hardcover)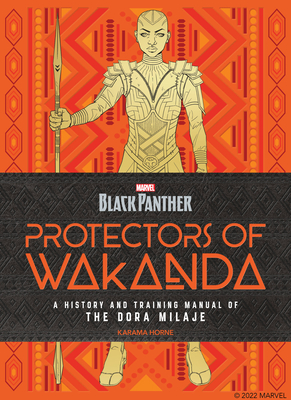 List Price: $22.99
Our Price: $19.54
(Save: $3.45 15%)
Description
---
Learn what it takes to become a member of the Dora Milaje—Wakanda's elite, all-female guard—with this exclusive in-world history and training manual.

The world of Wakanda, a technologically advanced society with a deep history and culture, prides itself on tradition, honor, courage, and strength. There is no greater symbol of that strength than Wakanda's leader, The Black Panther. But protection of that symbol is tasked to the Dora Milaje—a team of women serving as Wakanda's special forces.

For the first time, step inside this secret society of women warriors and discover what it's like to train as member of the Dora Milaje. Recruited from across all tribes, the selected initiates undergo intense training, both physical and mental.

Passed down from elder Dora to initiates, with entries by General Okoye, Princess Shuri, and Queen Mother Ramonda, Black Panther: Protectors of Wakanda reveals not only the history and foundation of the unit, but collects the strategy, weapons, and combat training as well as the code of honor and nuances of service required to protect the Black Panther and the nation of Wakanda.

Added commentary and guidance from notable warriors, such as Mistress Zola, Ayo, Aneka and M'yra, fill the margins of this treasured text.

Find out if you have what it takes to become a member of the Dora Milaje and bring honor to your tribe!
About the Author
---
Karama Horne (@theblerdgurl") is a Brooklyn, NY based culture journalist, writer, podcaster, host and critic parked at the intersection of geekdom and diversity. Founder of theblerdgurl® brand, Karama is recognized throughout genre entertainment as an authority on geekdom and inclusion. She has been seen on red carpets, hosting comic con panels from New York to San Diego and has been featured in USA Today, The New York Times, The Guardian, The San Francisco Chronicle, andThe Root. Karama also has bylines at Marvel.com, Rotten Tomatoes, NERDIST, Mashable, SYFYWIRE, and The Wrap. Karama recently co-curated the sequential art exhibit "Artist's Experience: From Brotherman to Batman" at the Society of Illustrators in New York. Her first novel, set in the world of the Black Panther Universe, Protectors of Wakanda: A History and Training Manual for the Dora Milaje, hits bookshelves Fall of 2022. 
Praise For…
---
"Horne has left no stone unturned when it comes to the larger mythology of this storied country…the single best resource on the Dora Milaje and Wakandan History that Marvel has printed to date. If you have any affection for Black Panther or The Adored Ones, you owe it to yourself to go out and get a copy."  
 —ComicBook.com

"This book is perfect for Black Panther fans who want to learn more about this iconic fighting force."
 —We Got This Covered