You are here
Equality: The History of an Elusive Idea (Hardcover)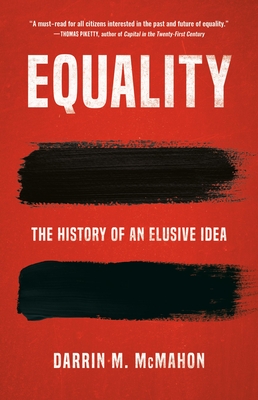 List Price: $35.00
Our Price: $29.75
(Save: $5.25 15%)
Available (Ships in 3-15 Business Days)
Description
---
The definitive history of the idea of equality—and why we're so ambivalent about it 

Equality is in crisis. Our world is filled with soaring inequalities, spanning wealth, race, identity, and nationality. Yet how can we strive for equality if we don't understand it? As much as we have struggled for equality, we have always been profoundly skeptical about it. How much do we want, and for whom?  

Darrin M. McMahon's Equality is the definitive intellectual history, tracing equality's global origins and spread from the dawn of humanity through the Enlightenment to today. Equality has been reimagined continually, in the great world religions and the politics of the ancient world, by revolutionaries and socialists, Nazis and fascists, and postwar reformers and activists. 

A magisterial exploration of why equality matters and why we continue to reimagine it, Equality offers all the tools to rethink equality anew for our own age. 
About the Author
---
Darrin M. McMahon is the Mary Brinsmead Wheelock Professor of History at Dartmouth College. The author of Happiness: A History and Divine Fury: A History of Genius, he writes regularly for the national and international press. He lives in Connecticut.
Praise For…
---
"Fascinating… McMahon's book is less a call to action than a goad to thinking."—New York Times

"An important examination of the past, present, and future of a key concept of political thinking."—Kirkus

"A meticulous and thoughtful account."—Publishers Weekly

"McMahon's book is a rare general study of the topic… Sweeping and discerning."—Library Journal

"Ideas of equality have a long and chaotic history—long before modern political battles and institutions made the rise of equality possible. At a time when the march toward equality seems so fragile and uncertain, this fascinating and refreshing book is more necessary than ever. A must-read for all citizens interested in the past and future of equality."—Thomas Piketty, author of Capital in the Twenty-First Century

"Darrin McMahon once again delivers a brilliant intellectual history of one of humanity's most important and least understood ideas. Sweeping, incisive, and provocative, Equality is nothing short of a masterpiece."—Daniel Gilbert, author of the New York Times–bestselling Stumbling on Happiness

"This is an essential book for thinking about the most pressing issues of our time. We instinctively react against inequality yet have confused and conflicting ideas about how to make equality a reality. McMahon explains why equality remains so elusive."—Lynn Hunt, author of Inventing Human Rights

"In this ambitious book, McMahon places equality at the center of human history, showing us how elastic and unruly the concept is and illustrating struggles over its meaning continue to be central touchstones for our contemporary moment. This intellectual and political history is a critical resource in our age of inequality."—Adom Getachew, author of Worldmaking after Empire

"McMahon's Equality is a remarkable book full of penetrating insights, good humor, and hard truths. By subjecting this supposedly 'self-evident' idea to historical scrutiny, McMahon uncovers the many different ways in which human beings—as strongly status-conscious creatures—have imagined equality from prehistory to the present day. What emerges is not only an elusive idea, but a strikingly ambivalent one. Equality may be more at home with hierarchy and exclusion than modern egalitarians care to admit. Yet McMahon argues that to maintain its power—and promise—in an unequal world, one must first confront equality in all of its complexity. I count myself convinced. There is no better place to start than with his wonderful book." —Teresa M. Bejan, University of Oxford

"McMahon's Equality is a magisterial and path-breaking history of the dialectic of equality and inequality, which has always been and remains today indispensable to understand the history of humanity. The author's fine-tuned analysis demonstrates that equality-thoughts are always ambiguous and polysemic. Concepts of equality can be deployed to enlarge the community of equals but also to exclude categories of people from equality. McMahon's history of equality runs from the palaeolithic hunter-gatherers to the present time, taking in the interaction of status, class, gender, and race. The concluding essay, fittingly named 'The Crisis of Equality,' discusses the struggles for and against equality in our time."—Siep Stuurman, author of The Invention of Humanity