You are here
The Little Girl Who Fought the Great Depression: Shirley Temple and 1930s America (Paperback)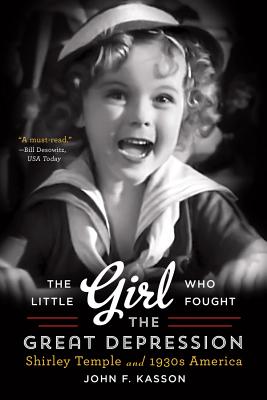 $15.95

Available (Ships in 3-15 Business Days)
Description
---
"[An] elucidating cultural history of Hollywood's most popular child star…a must-read." —Bill Desowitz, USA Today
For four consecutive years she was the world's box-office champion. With her image appearing in periodicals and advertisements roughly twenty times daily, she rivaled FDR and Edward VIII as the most photographed person in the world. Her portrait brightened the homes of countless admirers, among them J. Edgar Hoover, Andy Warhol, and Anne Frank.
Distinguished cultural historian John F. Kasson shows how, amid the deprivation and despair of the Great Depression, Shirley Temple radiated optimism and plucky good cheer that lifted the spirits of millions and shaped their collective character for generations to come.
About the Author
---
John F. Kasson is a professor of history and American studies at the University of North Carolina–Chapel Hill and the author of Amusing the Million, among many other seminal works of cultural history. He lives in Chapel Hill.
Praise For…
---
Compelling…This isn't a traditional biography; Kasson is more interested in the context in which Temple became such an icon.
— Kate Tuttle - Boston Globe

Deftly analyzes the young Temple's spectacular Hollywood success.
— The Atlantic

Vividly conjures an American popular culture revving up to its current Honey Boo Boo speed.
— Travis Nichols - Washington Post

Although Mr. Kasson's book is written to place Temple in the Depression-era context, he does not neglect her remarkable career. He presents an accurate picture of Hollywood's star system of the 1930s and her place in it.
— Jeanine Basinger - Wall Street Journal

[Kasson's] insightful new book explores the politics of the time, racial attitudes, movie-going habits and the breadth and depth of Shirley Temple's appeal.
— Elizabeth Bennett - Dallas Morning News

Timely…[Kassson's] knowledge of and passion for the period—which lead him to interesting digressions on topics including the panic over child kidnappings following the Lindbergh abduction, the changing meaning of the word 'cute,' and the early-20th-century popularization of allowances for children—make this an enjoyable read.
— Barbara Spindel - Christian Science Monitor

In a time of widespread suffering and frequent despair, this little girl touched the hearts of millions of people in our own land and others… John F. Kasson shows how her films provided therapy as well as entertainment.
— Richard Striner - Weekly Standard

Sparkling, beautifully written, nearly impossible to put down…A compelling and creative new cultural history of the 1930s.
— Karen Halttunen, author of Confidence Men and Painted Women: A Study in Middle-Class Culture, 1830-1870

John Kasson delights the reader with his lively account of feel-good films starring the adorable curly-headed moppet who, with radiant smile and winsome guile, lit up the dark nights of the 1930s. A brilliant analyst, Kasson lays bare coruscatingly, too, how exploited child actors serve as canaries in the mine shaft of modern consumer culture.
— William E. Leuchtenburg, author of In the Shadow of FDR: From Harry Truman to Barack Obama

Illuminating and highly entertaining.
— Steven J. Ross, author of Hollywood Left and Right: How Movie Stars Shaped American Politics

A remarkable dual biography: the story of Temple's brief reign over Hollywood, but also the story of an entire country, which took its cues from such an unlikely source.
— Booklist