You are here
The Black Ceiling: How Race Still Matters in the Elite Workplace (Hardcover)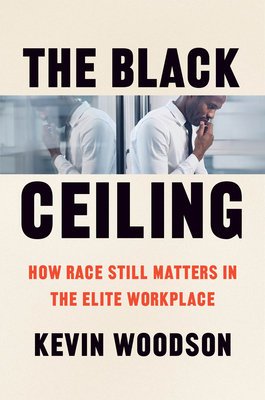 List Price: $26.00
Our Price: $22.10
(Save: $3.90 15%)
Available (Ships in 3-15 Business Days)
Description
---
A revelatory assessment of workplace inequality in high-status jobs that focuses on a new explanation for a pernicious problem: racial discomfort.
 
America's elite law firms, investment banks, and management consulting firms are known for grueling hours, low odds of promotion, and personnel practices that push out any employees who don't advance. While most people who begin their careers in these institutions leave within several years, work there is especially difficult for Black professionals, who exit more quickly and receive far fewer promotions than their White counterparts, hitting a "Black ceiling."
 
Sociologist and law professor Kevin Woodson knows firsthand what life at a top law firm feels like as a Black man. Examining the experiences of more than one hundred Black professionals at prestigious firms, Woodson discovers that their biggest obstacle in the workplace isn't explicit bias but racial discomfort, or the unease Black employees feel in workplaces that are steeped in Whiteness. He identifies two types of racial discomfort: social alienation, the isolation stemming from the cultural exclusion Black professionals experience in White spaces, and stigma anxiety, the trepidation they feel over the risk of discriminatory treatment. While racial discomfort is caused by America's segregated social structures, it can exist even in the absence of racial discrimination, which highlights the inadequacy of the unconscious bias training now prevalent in corporate workplaces. Firms must do more than prevent discrimination, Woodson explains, outlining the steps that firms and Black professionals can take to ease racial discomfort.
 
Offering a new perspective on a pressing social issue, The Black Ceiling is a vital resource for leaders at preeminent firms, Black professionals and students, managers within mostly White organizations, and anyone committed to cultivating diverse workplaces.
About the Author
---
Kevin Woodson is a sociologist and former attorney. Now professor of law at the University of Richmond School of Law, he previously worked as an associate at the law firm Wilmer Cutler Pickering Hale & Dorr LLP.
Praise For…
---
"In this well-researched book, Woodson identifies a significant and widespread consequence of the country's racial divide. Mandatory reading for both junior professionals and senior management alike."
— Kirkus Reviews

"The Black Ceiling is a must-read for anyone interested in understanding barriers to success for Black professionals working at predominantly White firms in law, consulting, and finance. Woodson shows how racial discomfort sometimes shadows Black professionals' experiences, through social alienation and stigma anxiety. In doing so, Woodson goes beyond explanations that rely solely on instances of racial discrimination to explain how social, cultural, and psychological processes also shape work experiences. Woodson also identifies the route to more positive experiences at work for Black professionals. The book is a compelling read and is sure to become an instant classic!"
— Natasha Warikoo, author of Race at the Top: Asian Americans and Whites in Pursuit of the American Dream in Suburban Schools

"Woodson delivers an amazingly nuanced and balanced portrait of life as a Black professional working in the high-powered service industries. I frequently saw myself in his descriptions and marveled at his ability to articulate the experiences of Black professionals across the spectrum. While Woodson's assertions will be familiar to almost every Black professional, it is his gift for explaining the complex factors that lead to his conclusions that makes this book stand out as a must-read. Woodson also offers concrete, practical solutions to the issues he raises that are sometimes counterintuitive but always insightful." 
— Ronald Machen, chair of WilmerHale's Litigation and Controversy Department and former US Attorney for the District of Columbia

"The Black Ceiling provides a desperately needed and beautifully written account of the lives of Black professionals in top law firms, investment banks, and consulting firms. Woodson powerfully shows how, despite these firms' publicly stated commitments to increasing racial diversity, inside their doors familiarity with White, upper-middle-class culture serves as vital currency for accessing plum assignments, necessary on-the-job training, favorable performance evaluations, close relationships with partners, and ultimately promotions. The book should be mandatory reading for employees in elite professional service firms and the students they recruit."
— Lauren A. Rivera, author of Pedigree: How Elite Students Get Elite Jobs

"The Black Ceiling is terrific, both in its observations and in its selection of themes. The solutions Woodson puts forward are eminently sensible."
— Devon W. Carbado, author of Unreasonable: Black Lives, Police Power, and the Fourth Amendment