You are here
Wasted Education: How We Fail Our Graduates in Science, Technology, Engineering, and Math (Hardcover)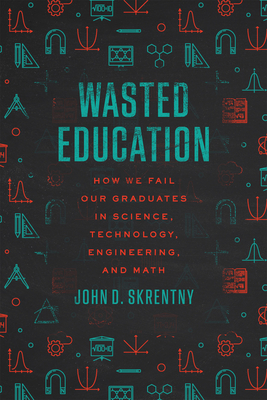 List Price: $30.00
Our Price: $25.50
(Save: $4.50 15%)
Available (Ships in 3-15 Business Days)
Description
---
An urgent reality check for America's blinkered fixation on STEM education.
We live in an era of STEM obsession. Not only do tech companies dominate American enterprise and economic growth while complaining of STEM shortages, but we also need scientific solutions to impending crises. As a society, we have poured enormous resources—including billions of dollars—into cultivating young minds for well-paid STEM careers. Yet despite it all, we are facing a worker exodus, with as many as 70% of STEM graduates opting out of STEM work. Sociologist John D. Skrentny investigates why, and the answer, he shows, is simple: the failure of STEM jobs.
Wasted Education reveals how STEM work drives away bright graduates as a result of  "burn and churn" management practices, lack of job security, constant training for a neverending stream of new—and often socially harmful—technologies, and the exclusion of women, people of color, and older workers. Wasted Education shows that if we have any hope of improving the return on our STEM education investments, we have to change the way we're treating the workers on whom our future depends.
About the Author
---
John D. Skrentny is professor of sociology at the University of California, San Diego. He has authored and edited books about education and employment opportunities, and his work has appeared in Science, Proceedings of the National Academy of Sciences, The New York Times, and The Wall Street Journal.
Praise For…
---
"[Wasted Education] asks important questions that encourage readers to think more deeply about what a meaningful education is (and is for) and the nature of meaningful work."
— Science

"With research rigor and bracing clarity, Wasted Education reveals America's real STEM problem—and the real costs of a hustling, relentless corporate culture."
— Margaret O'Mara | author of "The Code: Silicon Valley and the Remaking of America"

"This important book highlights how the unprecedented effort to push students into STEM degrees is both misguided and wasted by the lack of opportunity when they hit the job market. The STEM effort to do economic planning with students should be the biggest issue in economic policy. "
— Peter Cappelli | author of "Our Least Important Asset: How the Relentless Focus on Finance and Accounting Hurts Workers and Business"

"Wasted Education is a welcome and crucially important perspective on American education and workforce policy. Skrentny's argument—that employers must share responsibility with schools for nurturing and rewarding STEM talent throughout their lives—must become a mantra if we're to see anything more than minimal improvement in our national human-capital system."
— Mitchell Stevens | Stanford University