You are here
The Means of Reproduction: Sex, Power, and the Future of the World (Paperback)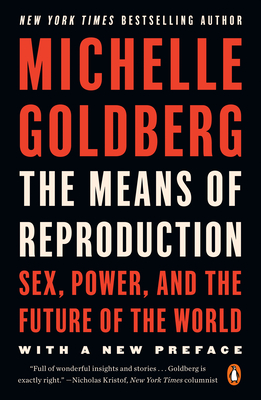 $18.00
...So, here's the thing: This might be back in stock soon. Or it might take a few months. Call (412) 585-2651 for an estimate
Description
---
"Think of Goldberg as the Al Gore of a sexual equality crisis. Reproductive freedom is not just a matter of justice, it's a matter of survival." - The American Prospect

New York Times columnist Michelle Goldberg's brilliant investigation of the global struggle over women's reproductive rights—"the worldwide battle between the forces of modernity and those of reaction, being fought on the terrain of women's bodies"

Through Goldberg's meticulous reporting across four continents, The Means of Reproduction highlights the past and present of feminist activism around the world. In the face of a new wave of authoritarianism, we can look to the stories within this book—from an abortion provider turned health minister of Ghana to survivors of domestic abuse in India to pioneers of access to birth control throughout the Global South—as both blueprint and inspiration. With broad historical scope and lucid prose, Goldberg's analysis demonstrates that women's rights are key to flourishing societies.
About the Author
---
Michelle Goldberg is an investigative journalist and the author of Kingdom Coming: The Rise of Christian Nationalism, a New York Times Bestseller which was a finalist for the New York Public Library's Helen Bernstein Book Award for Excellence in Journalism. A former senior writer at Salon.com, her work has appeared in Glamour, The New Republic, Rolling Stone, The Guardian (UK) and many other publications, and she has taught at NYU's graduate school of journalism. The Means of Reproduction won the 2008 J. Anthony Lukas Work-In-Progress Award.